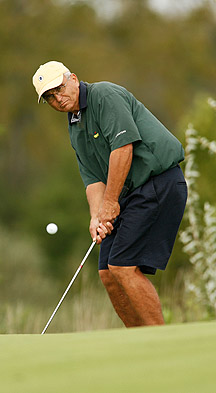 Bob Mielcarz is regarded as the most winning State Amateur golfer in New Hampshire. He has racked up nine New Hampshire Amateur titles over the years (1977-1979, 1982, 1991, 1993, 1995, 1996, 2000). He is the only player to have won the State Amateur in four different decades. Out of the ten times he has reached the 36-hole final match, he has only lost one time.
Adding to his accomplishments, Mielcarz has won the New Hampshire Senior Amateur Championship three times (2005, 2010, 2015). He has been named the Thomas J. Leonard Jr. Player of the Year three times (1993, 1995, 2006) and has been named the New Hampshire Senior Player of the Year two times (2007 and 2009).
Mielcarz has competed for New Hampshire in the USGA State Team Championship in 1995 and 1997. He competed in the 2004, 2005, and 2007 U.S. Senior Amateur Championship; in 2005 he advanced to the quarterfinals and made match play in 2007.
A member a Concord Country Club, Mielcarz is still playing competitively within New Hampshire.