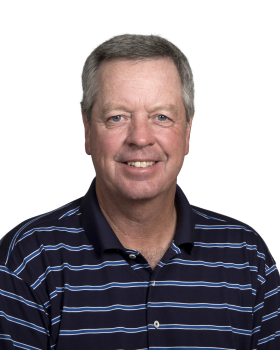 Kirk Hanefeld was a stand-out junior golfer in New Hampshire. He won the New Hampshire Junior Championship and the Red Ryan CYO tournament in 1971, 1972 and 1973. From there he then went on to win the New Hampshire Amateur Championship in 1974 and 1976 and won the New England Amateur Championship in 1977.
During his years of winning on the amateur side of golf, he also competed for the University of Houston golf team from 1974-1977.
Once turning professional, he won five State Opens, including the New Hampshire Open (1982), the Rhode Island Open (1998 and 2005), and the Maine Open (2003 and 2005). He participated in three PGA Tour majors (one U.S. Open and two PGA Championships) and 26 PGA Champions Tour majors (10 Senior PGA Championships, 3 U.S. Senior Opens, 6 Senior British Opens, 6 Senior Players Championships, and 1 Tradition).
Hanefeld has made 71 starts on the PGA Champions Tour since joining in 2006. Among the awards he has won, he has been named the New England PGA Player of the Year two times and the National PGA Senior Player of the Year one time.
Outside of playing he was the Director of Golf and Head Golf Professional at Salem Country Club from 1985 to 1999. He was the Director of Operations at The Ridge Club from 1999 to 2000, the Director of Golf at the International Golf Club from 2000 to 2006 and currently is the Director of Instruction at Salem Country Club in Massachusetts.
The NHGA Junior Player of the Year award is named after Kirk for his numerous accomplishments in the Granite State.